Nantucket/LV-112

Proudly made in USA



All electronic donations will be processed by PayPal.
LV-112 Note Cards Available
Now available for purchase are colorful LV-112 note cards, featuring a stylized illustration of LV-112 and other notable Boston landmarks. These new cards are packaged in a gift box of 10 with matching envelopes. The cards measure 4.5" x 6" (folded) and include a brief history of LV-112 on the back. Volunteer Susan Oliveira initiated the design of the cards with a local graphic artist and with her husband, Fred, generously donated the production costs.
As the primary purpose of the cards is for fundraising, we are requesting a donation of $10 per box, plus $5.35 for shipping and handling. To order, please make checks payable to:
USLM-Nantucket//LV-112 and mail to USLM, P.O. Box 454, Amesbury, MA 01913.
Attention
Lighthouse Lovers!
If you love lighthouses and want to learn about these guiding lights and navigational aids from all over the world, then
The Lighthouse Directory
is the website for you. It provides an astounding amount of information, linking to more than 17,200 of the world's lighthouses. Russ Rowlett, Adjunct Professor of Mathematics at the University of North Carolina at Chapel Hill, compiled the directory with the assistance of hundreds of lighthouse fans around the world who have enriched this site with their own information and suggestions. For a long time Rowlett tried to maintain a list of lighthouses from his many friends and contacts, but it had grown too long (and too out of date) to display on the comprehensive site. Rowlett offers special thanks to
Michel Forand
for his suggestions and editing, touching essentially every page of the directory, and Jeremy D'Entremont, Ted Sarah and Klaus Huelse, each contributing in vital ways.

The Maine
Lighthouse Museum


Another unique educational resource for U.S. Lighthouse history, Lifesaving and Lightship Service is The Maine Lighthouse Museum (MLM), located in Rockland, Maine, the heart of the Midcoast. Last October, the U.S. Lightship Museum presented a Powerpoint presentation at the MLM about U.S. Lightships and
Nantucket/LV-112
.
The mission of the Maine Lighthouse Museum is to educate the public regarding the longstanding traditions, heroism and progress of America's Lighthouse and Lifesaving services and the United States Coast Guard through the conservation and interpretation of the nation's most significant collection of lighthouse and lifesaving artifacts. From sparkling lenses to heartwarming stories of the keepers and their families, the Maine Lighthouse Museum is truly America's lighthouse museum. For more information, log on to the
Maine Lighthouse Museum
or call: 207.594.3301
Amex Industrial Services, Inc.
Association of Public Safety Communications Officials - Atlantic Chapter

Bluefin Robotics

Boston Harbor
Shipyard & Marina
The Boston Foundation
ThreeBees Fund

California Public Safety Radio Association

Cameron International Corporation
Claflin & Son
Nautical Antiques
Crandall Dry Dock Engineers
Capt. Robertson P. Dinsmore Fund
Donahue, Tucker &
Ciandella, PLLC
East Boston Foundation
BAE Systems
Eastern Bank Charitable Foundation
Fitzgerald Shipyard
Foss Maritime
J. Hewitt Marine
Electrical Services
H.F. Lenfest Fund
McAllister Towing & Transportation Co.
Joe and Pepette Mongrain
Fund

National Trust for
Historic Preservation
New England
Lighthouse Lovers
New London Maritime Society and Custom House Maritime Museum
Sherwin-Williams
Industrial Marine Coatings Division
T & M Services

Town of Oyster Bay,
Long Island, NY

U.S. Coast Guard Lightship Sailors Association

West Marine

USLM Members

Verizon Foundation
Zuni Maritime Foundation
USS Zuni / USCG Tamaroa

Individual Donors
USLM is a Member of the Following Organizations
The flag of the United States Lighthouse Service
Happy spring!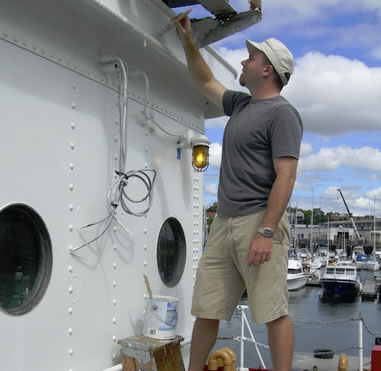 Volunteer John Rogers does some spring maintenance painting on LV-112's fog-horn deck house
Nantucket Lightship/LV-112 has reopened for the 2014 season. After a long cold winter, the more hospitable weather is certainly welcome.
Volunteer Tom Beaulieu shoveling away after one of many snow storms
It is hard to imagine that
19th-century lightship sailors were stationed on wooden vessels with no electricity and bare-bones heat during horrific winter storms at sea, often with no relief for months.
This past winter, several volunteers helped with the arduous tasks of shoveling snow and chipping ice from LV-112's scuppers. However, one scupper drainage pipe became clogged with water, froze and burst, leaking gallons of water into the interior starboard side passageway when thawed. Our volunteers came to the rescue, making the necessary repairs. Though much of our restoration work was stalled due to the inclement weather, we still conducted tours throughout the winter by appointment. To take the chill off, we installed temporary heating units.
Winter visitors from Texas and Boston
Despite more than a foot of fresh snow, visitors still came from out of state
From now through November 8, Nantucket/LV-112, berthed in East Boston, is open to the general public on Saturdays, 10am to 4pm. For other days, reservations may be scheduled to accommodate individuals, group tours and private functions. Before planning your visit, please call 617.797.0135. Due to LV-112's ongoing restoration, we may be occasionally closed for tours on Saturdays. For more information, log onto our website.
Nantucket/LV-112 invited to 2016 Boston Light Tri-Centennial celebration
Boston Light photo by Armand Herbert
LV-112 docked next to USS Constitution at Charlestown Navy Yard with Bunker Hill monument in background

The most historic U.S. floating lighthouse, Nantucket/LV-112, will participate with the most historic land-based lighthouse, Boston Light, during the Boston Light Tri-Centennial celebration, being organized by the U.S. Coast Guard and National Park Service for September 14, 2016. The event marks the 300th anniversary that Boston Light has served as the oldest continuous operating lighthouse site in the nation. Both Boston Light and Nantucket/LV-112 are National Historic Landmarks. Boston Light was constructed and financed by the British colony of Massachusetts in 1716. Today, it is the only U.S. lighthouse still occupied by light keepers. Coincidentally, the construction of LV-112 was also financed by the British Government.
LV-112 helps Boy Scouts earn their merit badge
LV-112 volunteer, Susan Oliveira (far right) helps guide Boy Scout Troop 60 on tour

A group of Boy Scouts from Sudbury Troop 60, Sudbury, Mass., recently toured Nantucket/LV-112 to fulfill a requirement to visit a National Historic Landmark as part of their Citizenship in the Nation merit badge. While visiting the ship, the boys assisted LV-112 volunteers install a new banner on the ship's gangway describing LV-112's history.
Upon completion of LV-112's on-board plumbing and heating systems, youth groups such as the Boy Scouts, Girl Scouts and Boys & Girls Clubs of America will be able to partake in day camps and overnight accommodations on LV-112, experiencing what lightship duty was like for former lightship sailors. We are also planning to conduct youth-based workshops on the marine sciences, weather and maritime crafts.

Boy Scouts help volunteers install new LV-112 gangway banner
Sister ship to RMS Titanic sinks Nantucket Lightship
Illustration, courtesy of U.S. Coast Guard
Eighty years ago, on May 15, 1934, Nantucket/LV-117 met its fate when in thick fog, the sister ship of the RMS Titanic, RMS Olympic, rammed LV-117 in a broadside collision that nearly cut the lightship in half. At 47,000 tons, the Olympic was 75 times larger than LV-117. Of the 11 lightship crewmembers, seven perished: Four went down with the ship, and of the seven survivors rescued by the Olympic, three later died of injuries and exposure. Ironically, the final frantic moments experienced by the Olympic crew mirrored the Titantic's collision with the iceberg 22 years earlier.


LV-117 was a steel hull, diesel-electric lightvessel, with a displacement of 630 tons. Launched in 1931, she operated as the Nantucket Lightship, south of Nantucket Shoals, moored in international waters approximately 50 miles southeast of Nantucket Island and 100 miles from the U.S. mainland. The lightship was the first U.S. landmark encountered by westbound liners approaching the United States. The Olympic was steaming towards New York Harbor at the time of the impact.

Nantucket Lightship/LV-117 c. 1933


On January 6, 1934, four months before LV-117 was sunk by the Olympic, the lightship had a less serious, glancing collision by another liner, SS Washington, at the time the largest ocean liner yet built in the United States. LV-117's radio antenna-yards were carried away and minor damage occurred to some hull plates. The near-sinking caused the crew great concern. In April 1934, radio operator John Perry told friends, "Some day we are just going to get it head on, and that will be the finish. One of those big liners will just ride through us."

Photo of Olympic taken from LV-117 by crew member one month before collision

The Olympic-LV-117 collision signified the dangerous nature of lightship duty. The floating lighthouses were navigational targets and very susceptible to impacts by other vessels, especially in fog-bound situations such as Nantucket Shoals Lightship Station, which is engulfed in fog nearly half of the year.

There now is a plaque mounted on Nantucket/LV-112 dedicated to the seven LV-117 lightship sailors who lost their lives: John Fortes (seaman), Ernest B. George (seaman), Alfredo Monteiro (cook), W.W. Perry (engineer), Isaac J. Pina (seaman), Justin F. Richmound (oiler) and Matheus F. Rodriques (seaman). Today, LV-117 is an underwater gravesite for four of its crew, lying 200 feet below the sea where the floating lighthouse was stationed at the time of the historic tragedy. To view vintage 1936 newsreel footage of the Olympic and LV-117 captains being interviewed after the horrific tragedy, click here.

The British Government paid reparations to the families of LV-117's crew and for construction of Nantucket/LV-112. As a result of the dangerous conditions on Nantucket Shoals and high risk of collisions, LV-112 was unique, designed and built to be virtually unsinkable, the largest U.S. lightship ever constructed and one of a kind. Many U.S. lightships had sister ships including LV-117, which had four sister ships; view newsreel.
LV-112 restoration update
Harry DeLuca and Peter Starr from the Lightship Group reviewing LV-112's heating and plumbing system blueprints in the ship's galley
Nantucket/LV-112's restoration and preservation is moving forward. Although the harsh winter interrupted our scheduling, we're back on track. The most important restoration phases, Nos. 1 and 2, are 95% complete (60% of the entire ship). Work included LV-112's exterior hull (above and below the waterline) and the ship's superstructure. Presently, we are focusing our efforts on the ship's interior, structural, mechanical and electrical systems, primarily including LV-112's plumbing, heating and fire-suppression systems. To fully implement educational workshops and comfortably host visitors, schoolchildren and youth groups year-round, it is essential for these systems to be fully operational. Last year, we received a generous donation from H.F. Gerry Lenfest to help fund the plumbing and heating restoration. Volunteer Jim Hewitt, a retired shipyard electrician, continues his expert electrical restoration work. When the USLM acquired LV-112, nothing was operational, "a dead ship." To date, Jim has restored most of the lighting, alarm and communication systems.
Volunteers, Tom Beaulieu and Ron Janard prepare heating radiator for paint and installation
We continue to be awestruck by LV-112's design and construction as we delve into the 78-year-old ship's pipes, ranging from 1" to 12" in diameter, and the valves and pumping systems linked to electrical motors, dormant for more than 12 years. After a detailed inspection of these systems, we concluded that one of the most expensive components needing replacement is LV-112's steam boiler, used for on-board heating. The 420,000 BTU boiler was installed during LV-112's refit in 1960 that included converting the ship's main propulsion, a 600 HP triple-expansion steam engine powered by Babock-Wilcox oil-fired steam boilers, to a 900 HP Cooper-Bessemer 8-cylinder diesel. The refit included installing two identical heating boilers, side by side, with one boiler as an auxiliary for emergency and maintenance shutdowns. For safety reasons, most of LV-112's systems are redundant.
Newly restored sinks and faucets in crew washroom

To retain LV-112's historic integrity as much as possible, we will keep the original boiler in place and restore it cosmetically. The twin boiler was removed many years ago by previous stewards, so we will install a new boiler on the old boiler's footprint. This phase of LV-112's restoration is proving to be very challenging. Fortunately, most of the ship's piping is still in good condition and reusable. However, many repairs and replacement components are needed. Currently, we are preparing for pressure-testing of all the plumbing and heating system components. This complex phase of LV-112's restoration involves a lot of specialized technical expertise. To help guide us, fortunately we have LV-112's original 1936 blueprints, the 1960 refit blueprints and the systems service manuals.

We also are fortunate to have the help of skilled volunteers including dedicated folks from the Lightship Group from North Kingston, RI, which has provided many years of service to the maritime industry, including virtually all facets of ship repair, troubleshooting, technical analysis and other services. Among the Lightship Group's clients are the U.S. Navy, U.S. Coast Guard, NOAA, the Massachusetts Maritime Academy and Mystic Seaport (19th-century whaling bark Charles W. Morgan).
East Boston Foundation provides funds for Candlepower Program
For the second consecutive year, the East Boston Foundation (EBF) has generously awarded the USLM a grant. Last year the foundation provided funding towards LV-112's restoration and preservation. The EBF grant provides a solid jumpstart to the total funding needed. We are appealing to other donor prospects for matching contributions. In 2014, the EBF doubled their contribution, this time directed toward helping the USLM Nantucket/LV-112 create the Candlepower Program. The foundation has proven to be a generous benefactor, recognizing Nantucket/LV-112 as a unique floating learning center and valuable community asset.
Fourth-grade students discuss maritime history, lightships, weather and sea conditions with their teacher
What is the Candlepower Program? The USLM Candlepower Program is a unique learning program that helps schoolchildren better prepare for required assessment tests in a fun way that will inspire and motivate their willingness to learn and succeed. It is being designed as an interactive Web-based course designed to help students learn and solve problems, combined with a fieldtrip to
Nantucket /LV-112.
In this unique program, the historic ship and events involving Nantucket Lightship become the "tool" to impart learning skills and engender the fun of learning that involve real-life issues. The course would be created to align with state assessment tests, reinforcing learning principles key to students' ability to perform well on these tests. Thus, the goal is twofold: (1) to assist in developing students' general learning skills, eventually tailoring the program to grade levels 4-12, and (2) to inspire and motivate children to become guiding lights -- candlepower of the future -- recognizing their key role in helping to preserve America's historic treasures for generations to come.
One aspect of our program is student problem-solving that involves "cause and effect" scenarios, for example: What were the factors that led to the Olympic/LV-117 incident (e.g., environment/fog/weather, negligence, faulty equipment)? What causes fog and other adverse sea conditions? How could this tragic accident been avoided?Students will have to come to their own conclusions and assemble the puzzle with pieces made available to them. We are developing this program in conjunction with teachers and other educational professionals.
Nantucket/LV-112
debuts at 2014 Boston film festival
The staff from Spot Editorial take a break from filming the IFF Boston trailer
Larry Anderson, owner of Spot Editorial, and his film crew produced footage on LV-112 prominently featured in a film trailer shown at the Independent Film Festival of Boston (IFF), held April 23-30. Every film was preceded by the opening trailer, welcoming the audience and thanking its many sponsors. To view trailer, click here.
The IFF of Boston was created in 2003 by the nonprofit Independent Film Society of Boston. The festival takes place each April in the Boston area's finest
art-house
cinemas. Of approximately 1,200 films submitted to the festival each year, the best 90 to 100 are shown. More than 120 screenings take place, followed by director Q&A sessions. The IFF of Boston is the largest film festival in
New England

.
Become a USLM Member Today
For a gift of $1,000 or more, donors will receive a limited-edition, fine-art print of the SS United States passing Nantucket/LV-112, signed by marine artist Gerald Levey
When you become a member of the U.S. Lightship Museum (USLM), you will be helping rescue and preserve Nantucket Lightship/LV-112, a National Historic Landmark and National Treasure that is an important part of our nation's maritime heritage. Plus you will have the satisfaction of knowing you are a contributing partner in the legacy of the world's most famous and largest U.S. lightship ever built. The USLM is a member of the Council of Maritime Museums (CAMM) and the Historic Naval Ships Association (HNSA). All USLM members will be granted reciprocal privileges (free admission) at participating CAMM institutions. For more information about the benefits and the USLM Membership program, click on USLM Membership.

All electronic donations will be processed by PayPal.
We thank all our volunteers and contributors for their commitment and support