Nantucket Lightship / LV-112 Capital Campaign
Help us save Nantucket Lightship / LV-112, a National Historic Landmark and preserve her in perpetuity. LV-112 is irreplaceable and the world's most famous and largest U.S. lightship ever built.
 
An estimated $175,000 to $250,000 is needed to begin restoration and stabilize the ship from further deterioration. Additionally, as a long-term goal, an $8–$10 million endowment will secure the ship's future. At this point, we anticipate a total cost of LV-112's restoration to be approximately $850,000, which should put the ship into operational condition. With your support, LV-112 can continue to educate and serve future generations as a vessel of lifelong learning. Preserving this United States Historic Landmark is an important part of our nation's maritime heritage.
LV-112 Naming Opportunity Program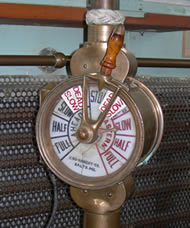 Pilot House engine order telegraph
The Nantucket / LV-112 Naming Opportunity program is the highlight of our Capital Campaign. As you can see, to achieve our restoration and preservation goals in a timely manner, the USLM needs to raise as much funding as possible. We are selling naming opportunities for components of the ship. Please join us in this important preservation project by selecting an item (see list of LV-112 ship components below) to be named in your honor with your generous donation. Donors will be listed on an engraved plaque displayed in an area of high visibility on the ship. In addition, a nameplate will be mounted on the donor's named LV-112 component (except rivets, which will be designated and numbered at the corresponding location). A certificate suitable for framing will also be awarded to the donor, certifying the selected Naming Opportunity.
The United States Lightship Museum is a 501(c)3 non-profit organization. Charitable donations are tax-deductible to the full extent allowed by law. Your support and commitment to preserving one of America's most unique historic landmarks would be greatly valued.
After you have identified your chosen LV-112 component(s) to be named, please send a check for the appropriate amount made out to: USLM – Nantucket / LV-112. Also, indicate on your check, "Capital Campaign" and mail to: United States Lightship Museum, P.O. Box 454, Amesbury, MA 01913. If you prefer to pay by credit card, please click on the "Network for good" button on the "How to Help" page and use the secure donation form. In addition, please indicate in the "Dedication" section, the name that you would like listed for your LV-112 component.

Foremast - Duplex 500mm electric
lens lanterns

LV-112 rescue and restoration
In October 2009, the USLM acquired LV-112, which is presently berthed in Boston Harbor. In addition, the USLM has obtained marine liability insurance, contracted a marine surveyor to conduct a pre-tow and insurance survey, which has been completed. The survey concluded that LV-112 is in seaworthy condition and conforms to the necessary requirements for tow by commercial tugboat to Boston. Prior to towing, safety requirements were completed with the assistance of volunteers. Many of the volunteers were retired U.S. Coast Guard veterans and former LV-112 crewmembers, who have enthusiastically joined our effort from all over the nation in addition to local Oyster Bay area residents.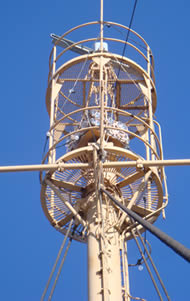 Mainmast - equipped with detection radar and high intensity 400,000 candle power lights consisting of 24 locomotive headlights mounted in groups of 6 on each face of a revolving lamp housing. Specified range: 23 miles. Reported to have been seen by other vessels at a distance of 50 miles.
 Phase I and a large portion of Phase 2, LV-112's restoration has been completed (95% of the exterior). The ship's plumbing and heating systems are in critical need of restoration which are not presently operational. All of the ship's mechanical and electrical systems (main engine, three auxiliary generators, three auxiliary air compressors, windlass, steering, etc.) also need to be serviced and overhauled. Phase 3 dry-docking will be implemented as soon as adequate funding can be obtained. Phase 3 will include structural repairs and restoration of the forward ballast tank frames, forward bilge floor frames and propulsion/steering systems. During the restoration process we have been open from 10-4 on Saturdays to the general public and only by appointment on other days.

The U.S. Lightship Museum's primary mission is to preserve LV-112 as a National Historic Landmark, National Treasure and operate the ship as a floating learning center, open to the general public. In addition, we are currently providing interactive educational programs for grade-school students and under served youths, especially in the East Boston and Greater Boston community. Since acquiring LV-112 in late 2009, we have completed 95% of the ship's exterior restoration and have stabilized the hull from further destructive seawater corrosion. In addition, we established the U.S. Lightship Museum for the express purpose to rescue LV-112 from the impending doom of being scrapped. However, we still have much restoration work ahead of us that mostly includes the ship's interior and mechanical systems. Our biggest challenge presently is raising funds that will allow us to restore the ship's plumbing and heating systems so we can continue scheduling educational programs for students throughout the year. We are also directing our fundraising efforts for school-based learning programs such as our new "Adopt a Class" initiative.

Many of our programs are directed towards elementary school children. When LV-112 was a commissioned U.S. Coast Guard lightship from 1936 -1975, it was also utilized for marine biological, and environmental research by Woods Hole Oceanographic Institution (WHOI). To help us advance these areas of interest, we are looking to develop educational curricula in conjunction with other learning institutions (i.e., N.E. Aquarium, WHOI, etc.).

We believe that it is essential to inspire, motivate and cultivate impressionable youths ready to learn about the importance and value of historic preservation. This will be a primary component of our educational program offerings. Moreover, our strategy is to introduce interactive learning programs that are age-appropriate and a fun learning experience. To ensure that our nation's historic sites and artifacts are preserved properly and in perpetuity, it is crucial for today's young people to become tomorrow's preservationists.

LV-112's historic integrity is protected in perpetuity, as a covenant was created by the U.S. Coast Guard upon the vessel's decommissioning in 1975. The covenant states LV-112 must remain as a museum open to the general public and can only be owned by a 501(c)3 organization. LV-112 is currently open to the general public during regularly scheduled hours on Saturdays, 10am - 4pm from April through November. Also, LV-112 is open throughout the year for individual and group tours, as well as private functions by appointment.
---
Nantucket Lightship/LV-112
Capital Campaign Naming Opportunities
| | | |
| --- | --- | --- |
| COMPONENT | AMOUNT | QUANTITY |
| Main Anchor | $150,000 | 1 |
| Captains Quarters | 150,000 | 1 |
| Ship's Propeller | 150,000 | 1 |
| Main Mast | 100,000 | 1 |
| Forward Mast                                | 100,000 | 1 |
| Fog Signal (2-tone diaphone) | 100,000 | 1 |
| Fog Bell Signal / Foredeck | 100,000 | 1 |
| Galley / Crew's Mess | 100,000 | 1 |
| Officers' Wardroom | 100,000 | 1 |
| Crew's Recreation Room | 100,000 | 1 |
| Starboard Passageway | 75,000 | 1 |
| Port Passageway | 75,000 | 1 |
| Ship's Bell | 75,000 | 1 |
| Auxiliary Anchor / Starboard Bow | 75,000 | 1 |
| Ship's Wheel / Pilot House | 50,000 | 1 |
| Ship's Wheel / Flying Bridge | 50,000 | 1 |
| Compass / Pilot House | 50,000 | 1 |
| Compass / Flying Bridge | 50,000 | 1 |
| Engine Order Telegraph / Pilot House | 50,000 | 1 |
| Engine Order Telegraph / Flying Bridge | 50,000 | 1 |
| Engine Order Telegraph / Main Engine Room | 25,000 | 1 |
| Running Lights (port and starboard) | 25,000 | 2 |
| Main Engine | 25,000 | 1 |
| Capstan | 15,000 | 1 |
| Deck Winch | 15,000 | 1 |
| Radio Beacon | 15,000 | 1 |
| Anchor Windlass | 15,000 | 1 |
| Generator #1 | 5,000 | 1 |
| Generator #2 | 5,000 | 1 |
| Generator #3 | 5,000 | 1 |
| Air Compressor #1 | 5,000 | 1 |
| Air Compressor #2 | 5,000 | 1 |
| Air Compressor #3 | 5,000 | 1 |
| Inclinometer | 4,000 | 1 |
| Main Engine Reduction Gear | 3,000 | 1 |
| Propeller Shaft | 3,000 | 1 |
| Watertight Doors (each) | 1,000 | 17 |
| Fresh Water Tanks (each) | 1,000 | 6 |
| Fuel Tanks (each) | 1,000 | 12 |
| Portholes (each) | 500 | 72 |
| Rivets (each) | 250 | 1,000 |